Donald Hecht and his family stay at our house on beach 38th street, 1953-1954. He shares his memories of  his summers, And some on wonderful tidbits about how the house was and the times there. His summer vacations.
Below are the emails that I have gotten from Donald. It has been a wonderful time to see and hear his memories. I hope you too can enjoy them.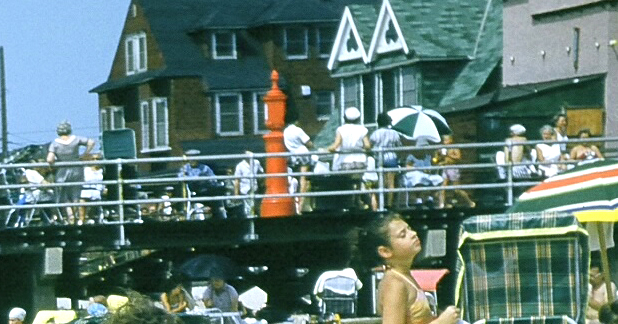 Bruce,
In my meanderings on the Web, I came across an entry of yours where you mentioned your family home on Beach 38th Street in Edgemere. One of my fondest memories was rooming in that house during the summers of 1953 and 1954 when I was 12 and 13. Although it's been 60 years ago, hardly a month goes by when something doesn't prompt my memories of those summers. As an example: I recently was having a discussion about Bronx delis and I mentioned rolled beef. The last time I had rolled beef was on the porch of your house during the end of summer Labor Day party. My family occupied the westernmost rooms on the top floor and my grandparents and aunt were in the easternmost rooms. I have detailed memories of those summers and recall Mrs. Baumwoll and her attempts to keep us,kids off her front lawn. Somewhere I think I have some pictures taken around the house. If I receive a response from you, I would be happy I to look for them and send them to you. I'd love to share memories with you.

Donald Hecht

Bruce,
Our suite consisted of a large room, with windows facing 38th Street and an smaller room to the left with one window facing 38th and another the ocean. The entrance to the smaller room was to the left of the entrance of the main room and in walking into the the smaller room, you would face an open closet. The smaller room was just wide enough for two cots with about a yard between them. The larger room had a small kitchenette immediately to the right upon entering. Don't really recall the appliances (they must have been mini) but I do recall that my mother did much cooking on an electric broiler. The room also held a double bed and a small table with four chairs. The bathroom was in the hallway outside the suite but it was our private bathroom. I recall a large footed tub and a toilet. Don't remember if there was a sink in there. Perhaps we used the sink in the main room. Al the floors were covered with a green and black patterned linoleum.

Donald Hecht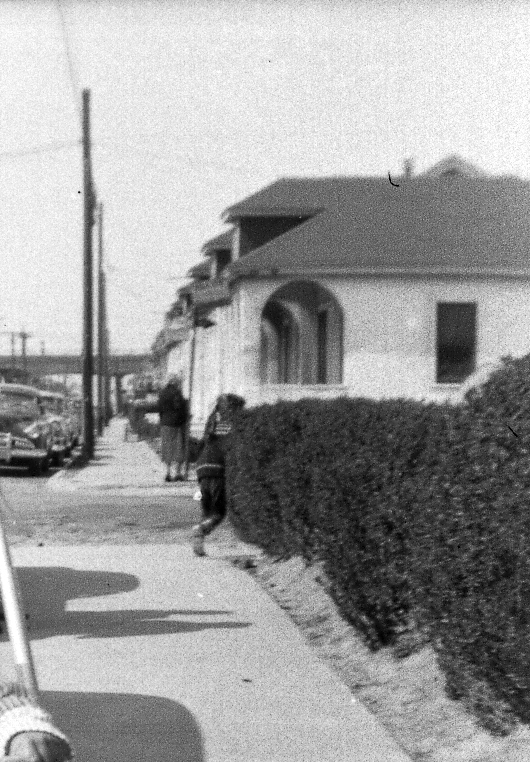 Bruce,
I think I am almost as excited as you are. I was totally blown away when I read your statement about the house on Beach 38th street, the second house off the boardwalk. That is the exact phrase I have been using all these (60) years. As I stated, I have detailed memories of those summers and, at 72, I am getting more nostalgic as time goes by. I'm sure I could write a many page essay covering the hundred of clear memories I have of my summers on Beach 38th Street. Roughly, I recall in my boxes of inherited unsorted pictures, a couple of pictures taken on the pebble "patio" facing the street on the south side of the house. I also recall several pictures taken on the beach on 38th Street. I'll have to dig in and see what I come up with. What was your relation to my Mrs. Baumwoll? Were you living there in 1953-4?

Donald Hecht

Bruce,
This is my grandma Bessie Morris from the Bronx by way of Grodna.
She, my grandpa Ruben and my aunt Lucille (Lucy) occupied the other suite on the top floor of the house. She is sitting in the "patio" the ground of which I recall being dirt and pebbles. The patio was to the south of the front lawn.

Donald Hecht

Bruce,
To her rear is Beach 38th Street. Across the street you can see part of the
bungalow court. The chairs in the patio were made out of tree branches and
were very uncomfortable. Except for sitting there with family, I avoided
that unshaded place.

Donald Hecht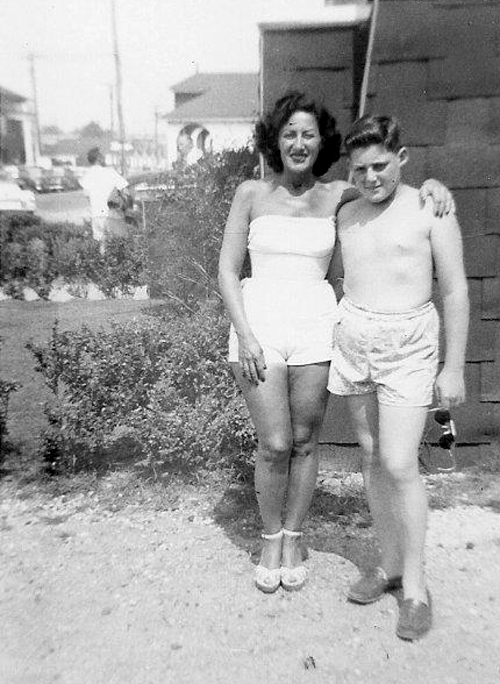 Donald Hecht and his mother 1953 , At the Baumwoll House on Beach 38th Street 
Bruce,
I found one box of pictures and in it were pictures from one roll of 12 exposures from B 38th. 8 of those were beach scenes, a couple with the boardwalk in the background. The others were taken on the patio showing a bit of the house. One is attached, others will follow. I went through this box carefully but many pictures that I remember were not there, so there must be more pictures somewhere. I'll keep looking. Back then, photography was very expensive for working class families and my family wasn't big on taking pictures.  Hope you enjoy this one.

Donald Hecht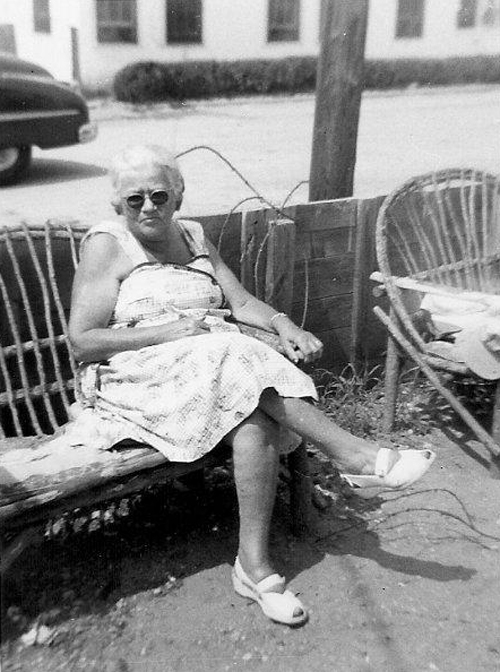 Grandma Bessie Morris
Bruce,
Across B38th and between the bungalow court and the boardwalk, there was an old wooden platform. I'd say it was about four feet above street level and perhaps an acre in area. The depth under it would vary depending on the height of the sand. It was said that they used to show silent movies there for a nickel. I used to creep around under that platform but there wasn't anything particularly interesting there. I had a classmate from PS 105 in the Bronx who lived in a bungalow halfway between the house and Edgemere Ave. His name was, Alan Harris – more on him in another post. Anyhow, I have one memory concerning that platform. Alan and I once crept under there with a pack of cigarettes to read the then hot and forbidden to us book – A Stone for Danny Fisher, by Harold Robbins. Strange how I remember these things.

Donald Hecht

Hey Bruce,

Another Beach 38th memory popped into my head. It was the summer of 1954; I was a wise-ass thirteen year old. One of the the running challenges of the summer was the war between your grandmother and the local kids, in her attempt to keep us off her front lawn. The intersection of Sprayview and 38th was our home base in our stickball and punchball games with the boardwalk being a home run. Needless to say, many a foul ball wound up on the Baumwoll front lawn much to your grandmother's displeasure. How does a thirteen year old even the score? I mulled over that for a good part of the summer and then came up with a scheme which would give your grandmother her just rewards. For the remainder of the summer, I scoured vacant lots to collect the seeds of the rampant noxious weeds growing there. By the end of the summer, I had collected at least two pounds of seeds. On the last day of the season, I surreptitiously scatters ever last seed over your grandmother's precious forbidden lawn. I never returned to see the results of my misdeed.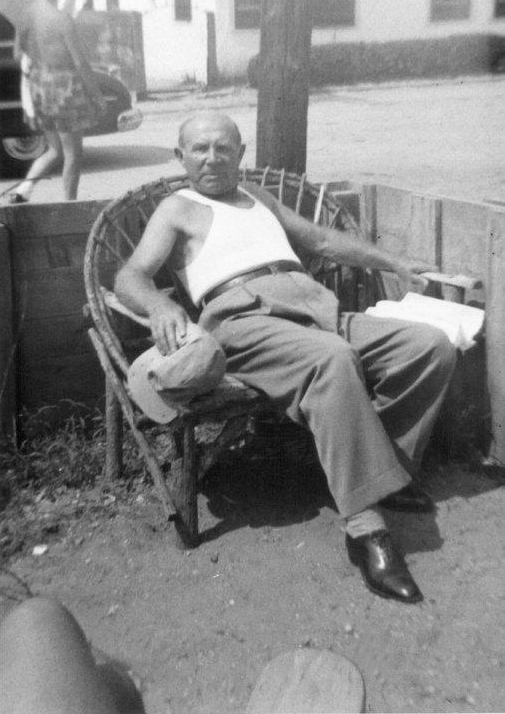 My grandpa Ruben Morris,On the patio by way of Vilna.
Bruce,
In the spring of 1953, my family loaded up our 1946 Chevy to check out a
potential summer rental in Edgemere. I have no memory of what prompted us to
explore Rockaway, let alone the Baumwoll house,  since most of our summers,
till then, were spent on the Jersey Shore. My mind's image of that day is
driving down the near deserted Beach 38th Street to the intersection of 38th
Street and Sprayview. We couldn't go any further south because the street,
from Sprayview to the boardwalk was covered by blown sand from inches to
feet deep. Quite unlike anything I've seen before and a bit eerie.

Donald Hecht

Bruce,
Yesterday, the local newscasts here in New York were almost completely devoted to it being the one year anniversary of Sandy. This prompted memories of another hurricane which devastated Long Island. It was August 31, 1954 and my family was summering in Edgemere in the second house off the Boardwalk. I recall my family being huddled around our Arvin Bakelite radio listening to news of the evacuation of Fire Island and wondering if we too should declare the summer over and head for home. We decided  to stay. I recall the surf passing under the Boardwalk and flowing up Beach 38th Street. In the telling of this story I often used the phrase that, "the ocean met the bay." However, this might have been an embellishment in the retelling. The next day I saw the highest surf that I have ever seen. I remember that one fool hearty tenant of our house braved the waves for a brief swim. Despite the storm's devastation, I don't recall any remarkable damage to our immediate area. What a wonderful experience worthy of retelling to present generations.

Donald Hecht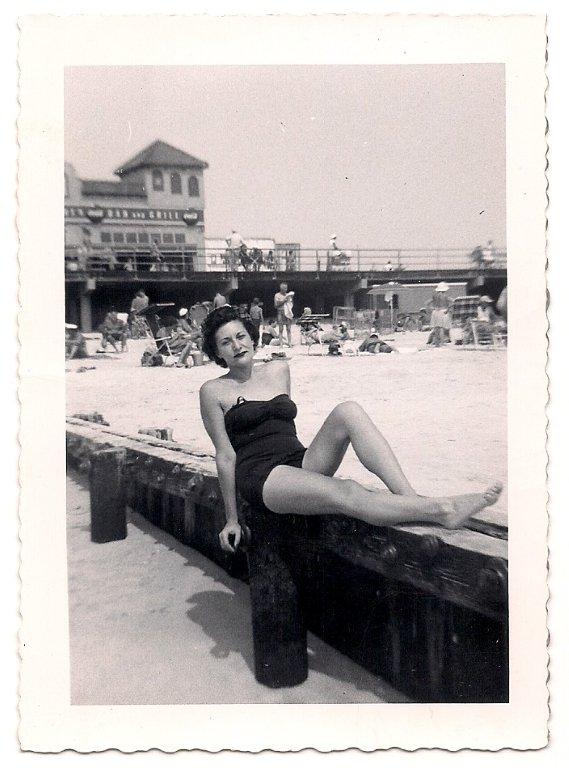 Donald Hecht's aunt Lucille Morris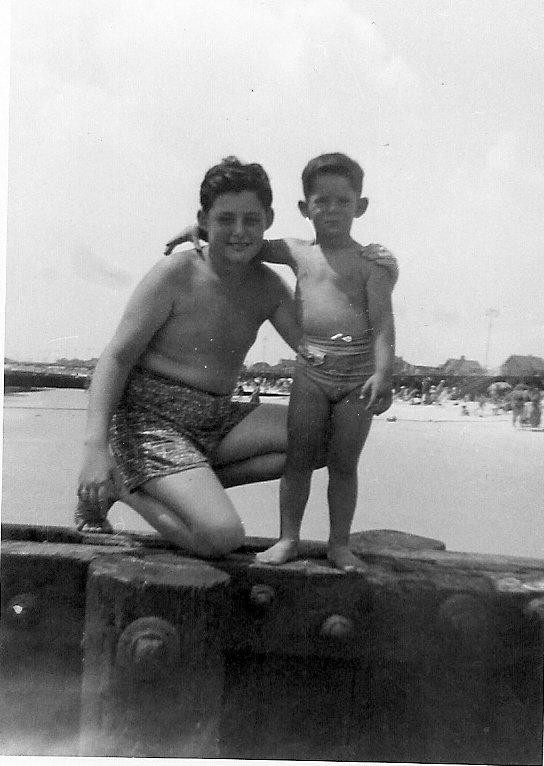 Donald Hecht (age 14) And His Younger Brother Michael Friedman (age 6), circa 1953-1954 Edgemere New York