I'm pleased to announce the opening of Let's Get Digital Exhibition including four works by my life partner Andrew Reach and works by 14 other Ohio Artists working in different ways with digital media.
Artists in the show include (hometown noted): Janet Ballweg (Bowling Green), Jerry Birchfield (Cleveland), John Branham (Massillon), Kimberly Burleigh (Cincinnati), Guy Michael Davis (Cincinnati), Nicholas Economos (Cleveland), Ronald Geibert (Beavercreek), Brian Harnetty (Columbus), Dan Hernandez (Maumee), Janice Lessman-Moss (Kent), Katie Parker (Cincinnati), Joshua Penrose (Columbus), Andrew Reach (Cleveland), Michele Waalkes (Canton) and Gina Washington (Cleveland).
From the Press Release of the Riffe Gallery:
The Ohio Arts Council's Riffe Gallery will present "Let's Get Digital" from May 3 – July 8, 2012. Curated by Alexandra Nicholis Coon, executive director of the Massillon Museum, "Let's Get Digital" demonstrates the endless opportunities digital technology offers to the world of art. Whether it be the tool, product, or subject of their artwork, all artists in this exhibition were selected based on their innovative applications of digital technology. To the 15 artists represented in this show, digital technology serves as an avenue for exploring new ideas and relationships that are not possible with traditional media. Read more…..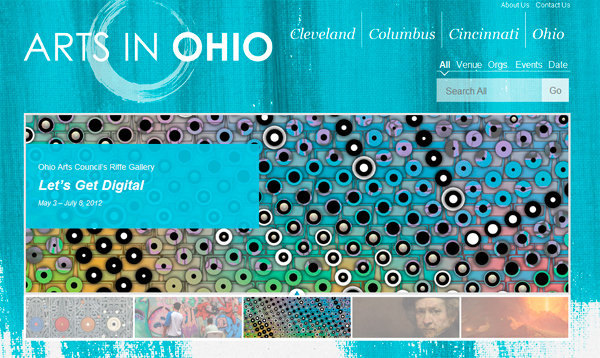 screen shot from Arts in Ohio homepage
pictured: Detail of "A Fisherman's Net Strung by the Constellations"
by Andrew Reach
Archival Digital Pigment Print on Canvas, 54 x 93.75 inches