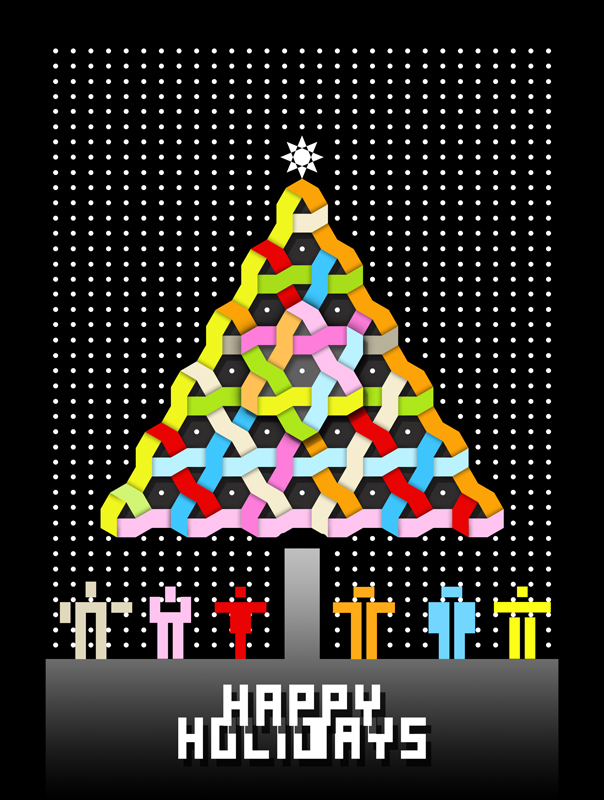 2020 has been a hard year. So much suffering and loss of life that's hard to comprehend. The shattered lives of so many. The loss of jobs, home and food insecurity of so many compounded by the decay of our democracy by Trump, his administration and minions.

Every year, my husband Andrew creates with his art a holiday card. This year he embarked on the yearly tradition with trepidation. But the human spirit is to be celebrated even in times of extreme adversity. Seeing so many heroes among us, front line workers, doctors nurses and essential workers doing the work that keeps society going proves this. So I made this card with abstracted people representing the human spirit thriving during the pandemic.

Wishing all, of all faiths and agnostics, Happy Hanukkah, Merry Christmas and Happy Kwanzaa. I hope you find some Joy this holiday season. A brighter future is ahead.
A note about Andrew's artwork for the card.
Andrew's holiday card combines influences of the three monotheistic faiths, Judaism, Christianity and Islam. For Christianity, the symbol of the Christmas Tree with the Star of Bethlehem on top. For Judaism, the Star of David (you have to look for it). For Islam, the interlaced pattern forming hexagons and hexagrams representing Islamic art.