The following is an excerpt of the full text of the history of Warsaw from the 1906 Jewish Encyclopedia:
Capital of the Russo-Polish government of the same name, and former capital of the kingdom of Poland; situated on the left bank of the Vistula. According to Polish writers, the earliest settlement of Jews in Warsaw dates from the thirteenth century, and their influence at that time is indicated by a number of documents in Hebrew script preserved in the local archives. They at first resided on the Jewish street near the present Dunai street, whence they spread to other quarters of the city, acquiring houses and lands, possessing a cemetery, and owning a synagogue near St. John's Church.

As in other cities, their growing influence awakened commercial and social antagonism among the citizens. The Christian merchants endeavored to rid themselves of their Jewish competitors by insisting on the strict application of the Magdeburg Law, and continued their propaganda with varying success until 1525, when Prince Janush of Mazovia issued a decree which forbade the Jews to reside in Warsaw or to pursue mercantile or industrial occupations in the city. This measure was not strictly enforced, however, for two years later Sigismund I. was obliged to issue a similar decree with an additional clause which debarred the Jews from residence even in the suburbs of Warsaw. This decree likewise proved ineffective, since the Jews who were driven from the city itself settled just beyond the walls,waiting for more favorable legislation which would permit them to return.
click here to read the full text from JewishEncyclopedia.com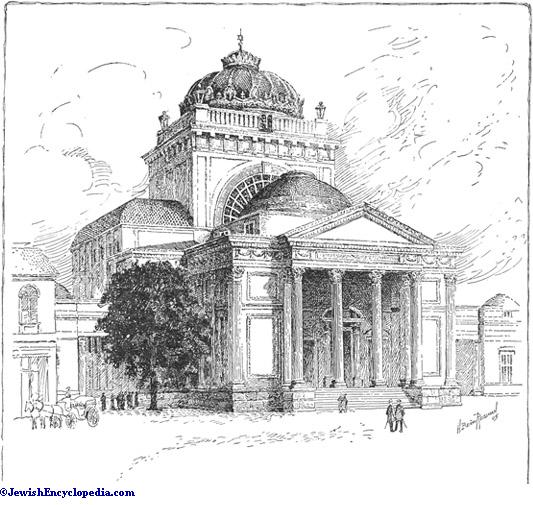 Exterior of the Great Synagogue at Warsaw, Russia.(From a photograph.)